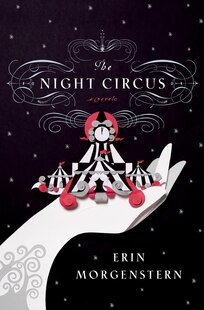 Sometimes just the cover of a book is enough for me to pick it up and take it home. They say don't judge a book by it's cover, but it sure can help it stand out from the dozens of others on each shelf. It's always nice when the writing keeps my interest too.
A novel about 2 magicians in a competition with each other, chosen as children, with limited rules or guidance. Their battle arena: a circus. A fantasy meets a love story.
The imagery in this book was beautiful. I felt like I was in the circus, in each of the tents exploring and pushing the bounds of reality. I struggled at times to connect with some of the characters because the timeline jumps back and forth quite a bit. And my absolute favourite part of the book is a conversation that happens between 2 important characters starting on Page 500. Really made the whole book worth it.